Professional Tree Care
As tree work is so varied and quite often challenging by nature, we pride ourselves in always working in a safe, efficient & professional manner with all operatives being fully qualified to N.P.T.C. certification, and we can supply anything from 1 – 4 climbers depending on the scale of the job in hand should the need arise. In addition, we offer Professional Tree Care across Angus Glens across Scotland.
We pride ourselves on being competitively priced and can offer on-site chipping of branches by self-propelled low impact tracked chipper, minimising the impact on lawns and accessing difficult to reach areas.
Storm damage 24hr response service
We cover and regularly work throughout Scotland, gaining repeat business throughout the year.
Angus
Perthshire
Aberdeenshire
Stirlingshire
Badenoch & Strathspey
Morvern & Skye
We'll take care of your tree work
General Tree Surgery

Tree Topping

Dead limb & branch removal

Crown Pruning

Tree Dismantling

Tree felling

Osprey platforms

Clearance and Removal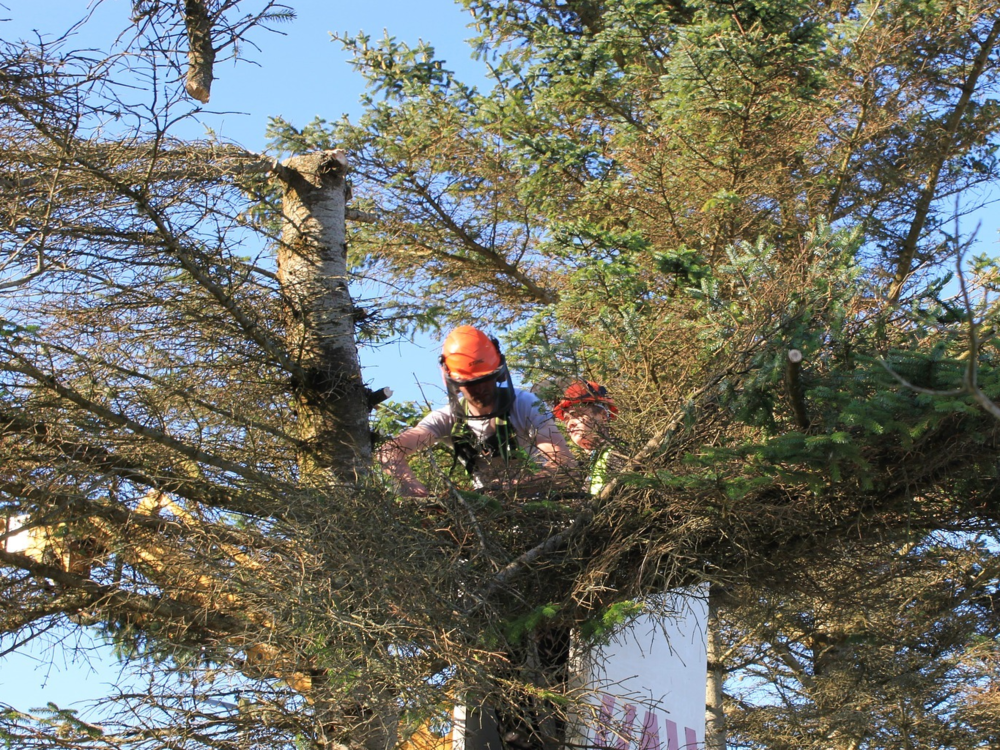 If you would like to arrange arborist or tree surgeon services, do not hesitate to contact our team today for a free quotation.
Tree reports
Trees sometimes need to be assessed when considering construction plans, planning permission, mortgages or insurance. Glenisla Tree Climbers can carry out a tree report for any of these purposes, assessing:
Defects in the structure of the tree may pose risks to health and safety.
Statutory Obligations, such as issues regarding highway tree services.
Damage to surrounding structures as a result of the tree.
Any further damage that the tree might cause, through soil shrinkage, for example.

Tree felling & removal
Tree pruning and dead wooding
A tree will generally need to be removed if it poses a risk to health, such as dead and rotting. Felling or removing trees that stand in confined spaces can be tricky and should only be done by a trained and qualified tree surgeon.
Pruning involves the trimming of healthy branches from the crown of a tree to form the desired shape. Deadwooding, on the other hand, consists of the removal of dead, dying or diseased branches that could pose risks to both people and the tree itself. Rotting branches can host pests and fungi that can cause even further damage.
Crown thinning and lifting
Storm damage
Crown thinning is a process where branches are cut from around the top of the tree, the aim being that more light can pass through the tree and that it is less wind resistant. Lifting is where a qualified tree surgeon will trim branches from lower down on the trunk. This is primarily done in urban areas, allowing pedestrians or vehicles to pass under the tree safely.
Initially, our trained tree surgeons will assess the level of damage the tree has incurred. Trees that have sustained a large amount of damage, such as significant splits in their trunks or a considerable loss of bark, generally will not survive. For those that can be saved, bracing and speeding up the healing process can be undertaken.
As a rule, hedges need to be trimmed annually, ensuring that they do not overgrow. Regular trimming additionally creates a neat, dense and attractive appearance. Arranging regular hedge trimming services through us is the best way for you to stay on top of your hedges and keep them looking good.

If you have had a tree felled, it is not advised that you leave the stump in the ground. Suckering can occur, where fresh roots can begin to grow from the stump. If the stump is completely dead, there is a risk of rotting wood harbouring diseases, such as honey fungus. Our professional stump removal service can dispose of these hazards easily.

Aerial inspection of trees
Supplying and replanting trees
Sometimes, the problem areas in trees are not visible from the ground and require an ariel inspection to get a good idea of what care needs to be provided. Our experienced and fully qualified tree surgeons can carry out these ariel inspections to fully understand how we can service your trees.

Glenisla Tree Climbers have the facilities to supply and plant any number of any species of tree that you would like. From single trees to whole plantations, our skilled tree surgeons are up to the task. We can supply hard and softwood trees and plant them wherever you wish. Of course, there are considerations for you to make, such as the trees spread and height and the purpose for which you want them planted. Our tree surgeons will be able to lend their expert advice to help with these considerations.

If you are having any trees felled, our surgeons can transport a mobile wood splitter to your location to turn these into useful fuel in the form of firewood. Once split and stored away correctly, you can use this firewood after around nine months of seasoning.

Are you looking for Tree Maintenance in Dundee, Forfar, Angus or Aberdeenshire? Call us on 01575 574 157 or 07831 626 023 or send us a message to find out more.